Sealants
ARTI- Rezinoplast: Russia's leading manufacturer of EPDM rubber sealants.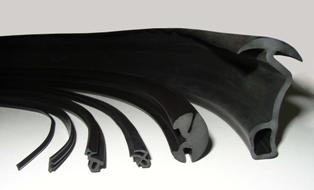 ARTI - Rezinoplast produces sealants for PVC and aluminium structures that are used in railway transport, industry and agriculture. Sealants can be produced at individual orders.
High technical level and excellent quality of the sealant are ensured by using unique technology and newest German production equipment, allowing to control the manufacturing process at every stage of production.
ARTI - Rezinoplast consistently modernises production process and trains its personnel.
Laboratory of ARTI - Factory, providing services for ARTI - Rezinoplast is equipped with modern German machinery. Strict quality control of raw materials is implemented. The test program of materials includes stretching, density, deformation and compound homogeneity tests. Electronic accounting system of compound products is in place.
Extrusion nozzles of any degree of complexity are produced in ARTI- Factory's own tool shop. That allows significantly decreasing sealant's production time.
At customer's request ARTI – Rezinoplast experts can develop and introduce into production rubber sealant of any complexity level and type. Impeccable compliance of sealant to samples or drawings provided by the customer is guaranteed.
Seals are consistent with GOST 30778-2001 quality standard.
ARTI - Rezinoplast offers its products to a wide range of customers in Russia and the CIS, has a modern warehouse complex comprising conveniently located warehouses in Moscow and Tambov.
Entire range of products is available for purchase. ARTI guarantees security of supply in all seasons and individual approach to each customer.
Exploitation characteristics of EPDM rubber sealants.
| | |
| --- | --- |
| Operating temperature range, ° C: | from -55 to +60 |
| Tensile strength , MPa : | 7 - 8,5 |
| Hardness range , Shore : | 50 - 75 |
High resistance to aging
Excellent ozone resistance performance
Excellent elasticity
Accuracy

| Nominal section dimensions | Detour limits, (+/-) |
| --- | --- |
| from 4,0 inclusive | 0,4 |
| From 4,1 to 6,3 | 0,5 |
| 6,4 - 10,0 | 0,7 |
| 10,1 - 40,0 | 1 |
| over 40,0 | Stipulated in the contract |
Other detour limits can be discussed with the customer.
Labelling
Sealants are marked in accordance with ГОСТ 30778-2001. Other labelling can be made in agreement with the customer.
Packaging
Coil, packed in a plastic bag and box.
Box's weight does not exceed 20 kg.
One pallet : 10 rows 4 boxes each.
Each coil has a unique barcode
Other form of packaging can be agreed with the customer.